FIRST FRIDAYS VENDOR FEES
Dates:
May 5
June 2
July 7
August 4
September 1
October 6
Costs:
Merchandise- $125
Nonprofits selling – $50.00
Nonprofits-$25.00
Authors- $25.00
Food-$250
Only approved vendors are permitted to obtain City Permits and Health Permits
AACCofMC Vendor Chair submits a list of vendors to the City Clerk's Office.
All Vendors must bring their own tables, chairs, and power.
All vendors are set up between 3 pm and 4:30 pm.
Free Vendor Parking is located at Liberty Commons 16 West Front Street Trenton NJ.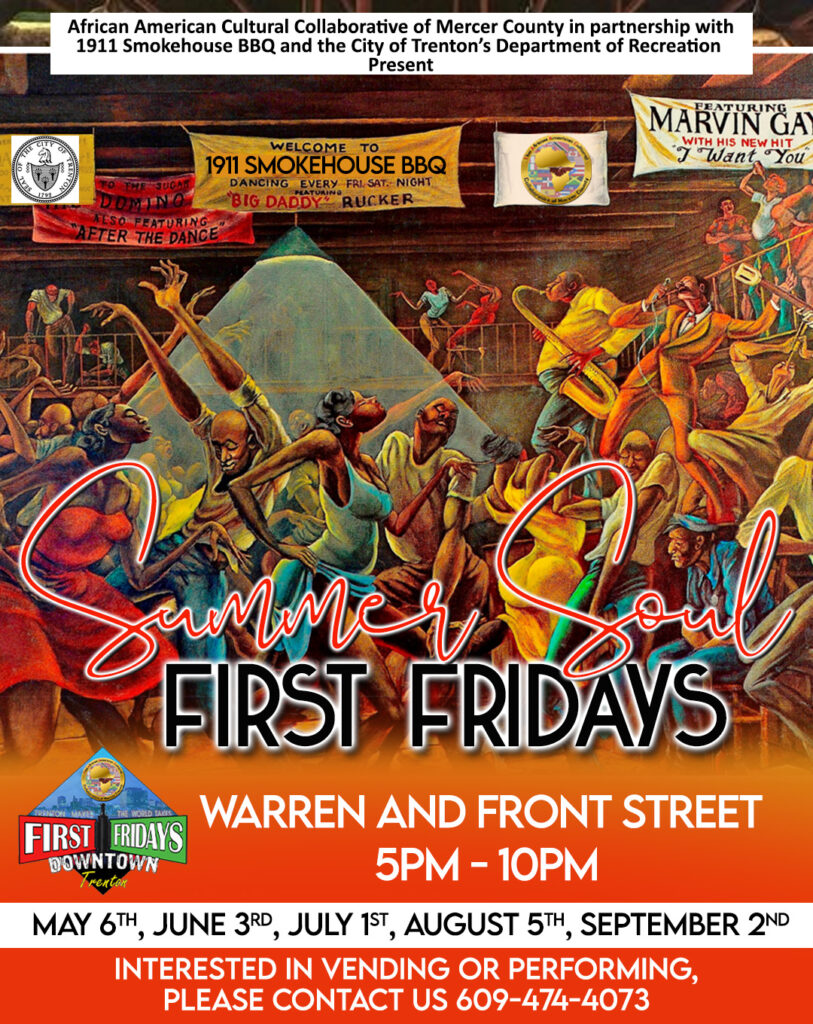 ABOUT FIRST FRIDAYS
We are delighted to broadcast that the overall mission and vision of the Trenton African American Cultural Festival organization, which started in 2011, has led to the creation of an even larger, more inclusive entity to serve the residents of Mercer County and beyond. In June 2017, we were recognized as a non-profit and granted 501(c)(3) status by the organization, along with community-based support and sponsorship evolved into the African American Cultural Collaborative of Mercer County.
In efforts to become "more than just a festival", the goal of the collaborative is to Educate, Empower and Unite Africans in the diaspora through cultural arts, health and wellness, entertainment and sports. The inclusion of people of all racial backgrounds will help to solidify community relations and celebrate our rich history and heritage in multiple venues. To that end, we have been extremely busy over the past three years mobilizing for local culturally themed events throughout Mercer County.
For five consecutive seasons, First Fridays have occurred in downtown Trenton with tremendous success.  Initially started as a catalyst to invigorate the after-work atmosphere, these FREE community gatherings occur from May through September in historic downtown Trenton. Located just a block away from the Old Barracks landmark the lively evenings feature locally-based entertainment ranging from recording artists to DJs to spoken word to jazz ensembles.  New artists are also given the opportunity to showcase their talents.  Vendors and children's activities provide an atmosphere of fun for all ages. These events have been occurring from 5 p.m. to 10 p.m. on Front Street.
The Collaborative and partner Maurice Hallet owner of 1911 Smokehouse Barbeque is looking forward to extending its catchment area via an opportunity for partnership with the City of Trenton to broaden the scope of First Fridays on Front Street.   We are again soliciting the participation of downtown businesses in efforts to extend the diameters, variety of entertainment, and opportunity for increased patronage of our local entrepreneurs.  This will be an exciting opportunity and we are ecstatic to have a chance to negotiate the logistics in order to make it a reality. The area encompassing Warren Street and Front Street has been identified as our target.  Street blockages and extended hours for local businesses will be required to make this happen.  In order to do this and so much more, we need your support!
We invite all downtown business owners/operators to join us for an opportunity to discuss the details further.  If you have questions please feel free to give me a call at 609-474-4073.  I look forward to an opportunity to collaborate and work towards making downtown Trenton a cornerstone of economic growth, cultural awareness, family engagement, and entertainment for the capital city.  Please join us in these incredible efforts.