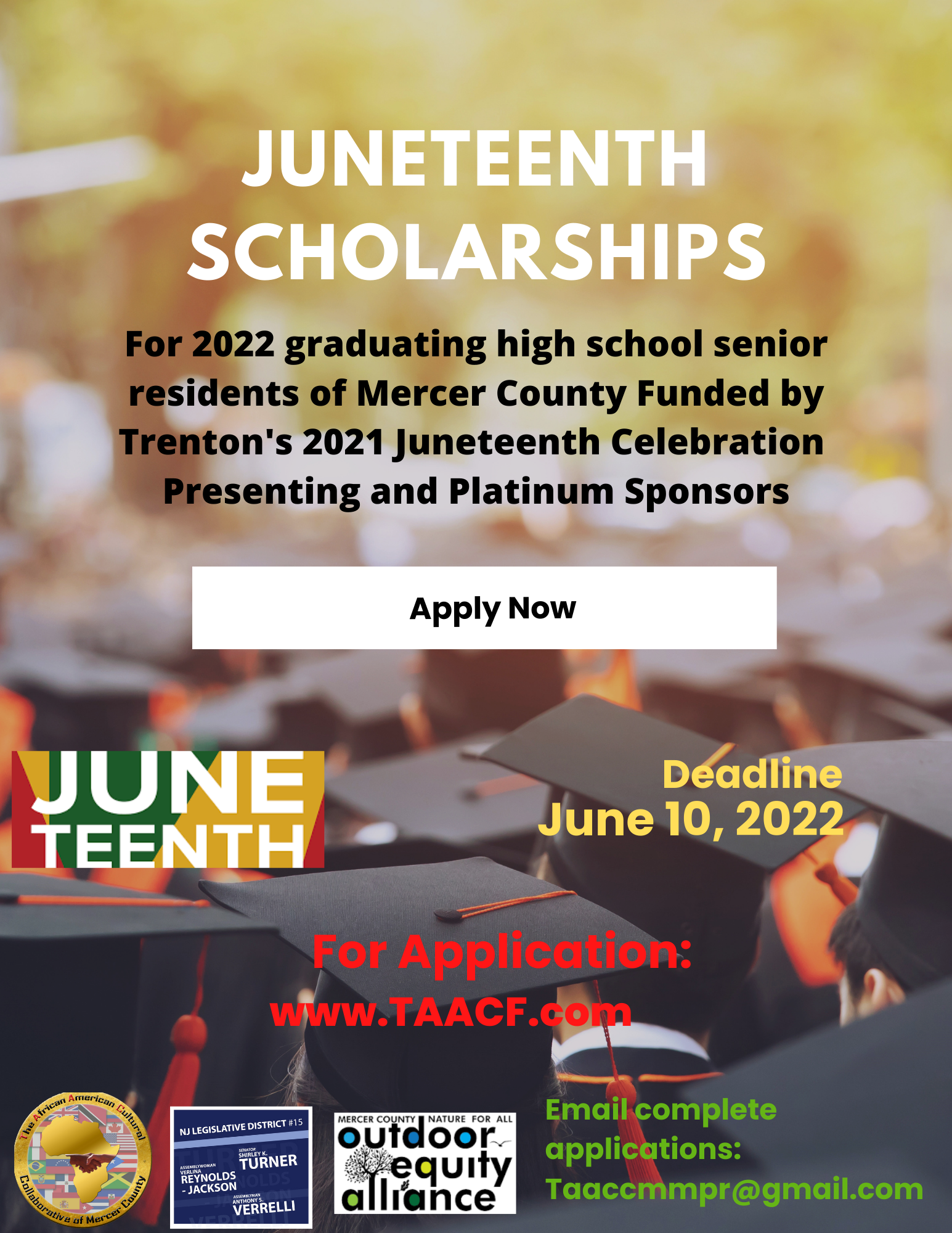 About the Juneteenth Scholarships:
As a result of generous donations by the 2021 Juneteenth Presenting Sponsors, Wells Fargo and St. Francis Medical Center, (4) scholarships for deserving graduating high school seniors will be awarded at the 2022 Juneteenth Celebration Kick-Off.  Additional scholarship funds will also be awarded to (1) recipient based upon the donation of our Platinum Sponsor, Wegmans.
Juneteenth Scholarship Requirements:
Applicants must be a graduating high school senior
Applicants must be a resident of Mercer County, New Jersey
Applicants must have at least a 2.3 GPA on a 4.0 scale
Applicants must have demonstrated community service
Applicants must demonstrate outstanding community organization and leadership skills
Applicants must complete an essay from the topics provided below
Juneteenth Scholarship Essay Requirement:
Applicants must submit a typed essay of at least 250 words, not exceeding 500, using one of the topics below:
Explain the importance of financial literacy for young adults and how it can affect the wealth gap and sustainability of the economic legacy in your community.
How would you work to increase urban community health initiatives and eliminate healthcare inequities if given an opportunity to make a change?
What does the recognition and celebration of Juneteenth in the State of New Jersey mean to you and your community?
If you were allotted a million-dollar grant to utilize within your community, how would you use it and who would you include in the execution?
Submission Requirements:
Complete the application form below and Juneteenth Scholarship essay
Copy of high school transcripts
Letter of acceptance from an accredited college or university
One letter on organization letterhead to confirm community service.
Deadline: Complete applications must be submitted by 11:59 p.m. on June 10, 2022.
Mailing Address: 247 E. Front Street, Suite 215, Trenton, NJ  08611
Email Address: [email protected]
Incomplete applications will not be reviewed.
Awardees will be notified by June 16, 2022
Awardees will be required to attend the Juneteenth Kick-Off Celebration for ceremonial* presentation of the scholarship by the sponsors.
*Scholarship funds will be dispersed upon confirmation of college enrollment.